Digitally Well Universities TM

Certifying Leading Campuses...

The Digital Wellness Institute is proud to recognize campuses that are taking a leading role in re-defining optimal tech usage habits of their students and providing them with the tools, resources, and training to reach a state of digital balance, on campus and beyond.

What Does it Mean to be Certified?
A Certified "Digitally Well University" is one that prioritizes student well-being by cultivating a positive digital culture on campus that promotes focus, improves mental health, and fosters meaningful relationships. They are amongst a select but growing group of institutions that thoughtfully consider the ways in which students can maximize the benefits of technology while mitigating its potential affiliated harms. Through evidence-based interventions, awareness building, assessment, and education, the campus offers resources to equip students, faculty, and staff to digitally flourish, thereby resulting in better engagement, student retention, and long-term (academic) success.


Digital Flourishing® is the unique approach of The Digital Wellness Institute. It refers to a mindful approach to digital technology usage that supports our thriving in different areas of life. This approach empowers us to take advantage of the benefits of technology while avoiding associated harms.
Our Standards for Accreditation
We recognize two standards of accreditation: Rising Digitally Well Universities TM and Certified Digitally Well Universities TM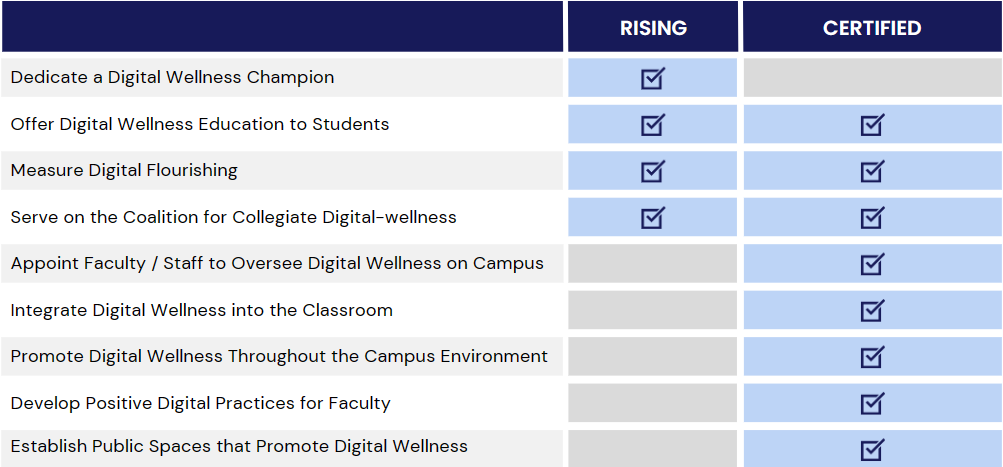 Are you ready to put your university on the path to certification?
Assess your certification readiness using our free diagnostic, powered by the Digital Flourishing Methodology
TM
1.
Rising Digitally Well Universities
TM
Rising Digitally Well Universities™ are recognized as those that are on the path to Certification. To receive recognition at the Aspiring level, they need to…
1. Appoint a Digital Wellness Champion on Campus
The university appoints a member of faculty or staff to serve as a digital wellness champion, responsible for leading any and all digital wellness initiatives on campus. Champions may be sourced from student engagement and campus life departments, counseling centers, health education & wellness, recreational sports, departments on campus, or faculty with a research focus in the area of wellbeing.
2. Offer Digital Wellness Education to Students
The university teaches students how to align their tech use with their goals. They may:
Collaborate with academic partners and student organizations to teach students how to balance the demands for tech use with self-regulation goals.
Make learning about digital wellness available to students during first year experience, orientation week, the first six-weeks programming, or as part of a students' residence hall programming.
3. Measure Digital Flourishing of Students
The university has a means of measuring the digital health and wellness of students and deploy the Digital Flourishing assessment to at least half of their students.
4. Serve on the Coalition for Collegiate Digital Wellness
The university identifies a representative to serve on the Coalition for Collegiate Digital Wellness, organized by the Digital Wellness Institute. The Coalition provides support, shares ideas, and stays up to date on current research and best practices.
2. Certified Digitally Well Universities
TM
Our highest level of recognition is reserved for those institutions that meet all of the standards above, as well as the ones listed below. To receive recognition, they need to:
1. Appoint a Faculty / Staff to Oversee Digital Wellness on Campus
Certified universities appoint faculty / staff whose job responsibility includes (or is solely dedicated to) improving digital wellness on campus. They may oversee the education, assessment, and awareness campaigns that are spread on campus and provide oversight for student organizations and ambassadors working on the topic.
2. Integrate Digital Wellness Awareness into the Classroom
Certified universities partner with academic departments to provide messaging about best practices for tech use in the classroom to share with their students. This may include…
PSA's reinforcing positive tech-usage habits in the classroom through slides, syllabi, screensavers, etc.
Tech-free policies posted in course syllabi that promote focus and eliminate digital distraction during the classroom.
3. Promote Digital Wellness Throughout the Campus Environment
Certified universities partner with student affairs divisions to promote digital wellbeing in common spaces. For example, offering…
Signs & posters in public places throughout campus (residence halls, dining halls, student center) that encourage digital wellbeing.
Events created in partnership with student affairs organizations to bring attention to the topic in ways that are meaningful to your institution.
4. Develop Positive Digital Practices for Faculty
Certified universities educate faculty in the importance of establishing positive boundaries themselves, both at work and at home. They are given permission to "disconnect" on nights and weekends from head faculty, and their administration has taken steps to reduce the impacts of their digital overwhelm in a meaningful way. Examples include…
Establishing a communication & mindful experience charter Establishing a communication & mindful experience charter
Providing best practices for distraction free working sessions
Wondering How Your Campus Stacks Up?
Assess your campus against industry peers.

UPCOMING WEBINAR: JUNE 20, 2-3pm CST
Fireside Chat with Dr. Carl Marci
Rewired: Protecting your Brain in the Digital Age