LIVE Certified Digital Wellness Educator Program
Earn a certification to champion a change in your workplace or school.

This "live" program is offered virtually but with a dedicated cohort of fellow students and weekly calls with instructors.

Key Dates: September 11 - November 17, 2023
9/10
Overall courses satisfaction score.
96%
Completition rate on all courses.
350+
Certified Educators in 32 countries
Team Leaders


Non-profit
Start-up
Corporate
Government
Mental Health Practitioners
Psychologists
Psychiatrists
Social Workers
Life Coaches
Health
Providers
Doctors + Nurses
Physical Therapists
Holistic Health
Educators
Educators


K-12 Teachers
Graduate Professors
Speakers
Influencers
Curious Explorer


Individuals Seeking:
Knowledge
Growth
Tech Health
Digital Flourishing®
What You'll Get
- 30 hours of content instruction, led by the world's foremost authorities on digital wellbeing
- 1 year of free access to the Alumni Community Portal to network with other certified educators in 40+ countries
- 40 page printable workbook of activities
- Access to Resource Tool Kit (graphics, templates, digital wellness glossary, and more!)
- Digital badge to recognize your status as a "Certified Digital Wellness Educator"
- Ongoing continuing education opportunities throughout the year (at no cost for Alumni)
What to Expect
Quizzes + Final Exam
Weekly built-in checkpoints for recall and retention on key topics and vocabulary
Assignments
Thought-provoking exercises designed to help you embody program content
Project with a Purpose
A final project to move you from the classroom to real world applications



Reflections
Prompts to foster introspection and awareness
Download our Program Overview and get 15% off!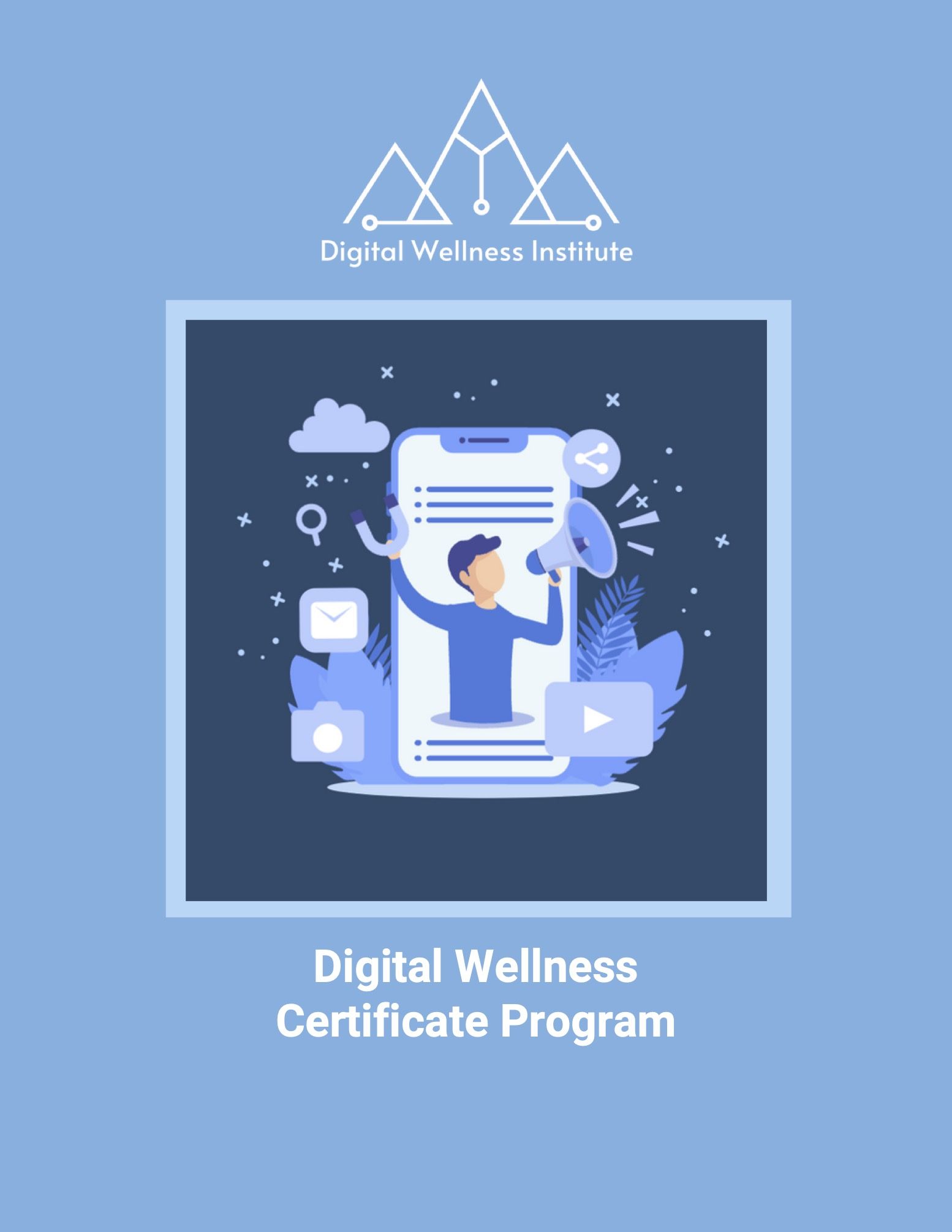 DWI offers an amazing program! Essentially, their collaborations bring in world-class instructors to engage the larger conversation of Digital Wellness, as well as provide tools for attaining that elusive balance. The Educator program promotes and expands thought leadership by teaching research-driven content to shed light on the interplay of the technological balance of self, wellness, professional performance, and community. From students, to professionals and leadership circles, DWI is a fantastic resource!
- Nicole C.
DWI taught me to unplug and recharge. Being mindful and intentional about my online activity and screen time has helped me be way more productive! Thank you all for your work.DWI taught me to unplug and recharge. Being mindful and intentional about my online activity and screen time has helped me be way more productive! Thank you all for your work.
- Keith Y.
Nina and her team are amazing, highly recommend for any of your digital wellness needs!
- Gene C.
Fantastic resource for practicing a more mindful and empowering relationship with technology. Highly recommend!
- Auburn M.
Great program, amazing instructors, insightful content and a fantastic opportunity to collaborate with colleagues from different fields. So many lessons learned to foster a healthy relationship with technology. Fully recommended.
- Carolina B.
I burned out due to digital overload after the Pulitzer Prize-winning Panama Papers investigation, where I played a key role as head of the data team. In today's digital world it's a must to learn how to have a healthier relationship with technology.
- Mar C.
Course Format
We know you are busy. That's why designed this certification program with professional in mind. The course has interaction to build community, but flexibility to help you work at your own pace.
Core Content
Each week of the program covers 3-4 modules on core topics and includes an appendix of content for those who want to learn more.
Synchronous, but Flexible
New content is released on Mondays, but may be consumed and completed at your own pace.
Weekly Calls
Tap into the wisdom of your world-class instructors and fellow classmates on weekly live Zoom calls (Wednesdays from 11am-12pm CST; also recorded)
Knowledge
Understand key terminology of digital wellness and the attention economy
.
Identify the warning signs of technology addiction, dependency and distress
.
Understand current technology trends and their impact on human behavior
.
Discuss the design and regulation of technology for digital wellness
Embodiment
Speak authoritatively about the core components of Digital Flourishing
.
Model the prevention of and recovery from digital burnout and sensory overload
.
Discover practices to explore and improve your relationship with technology
Empowerment
Coach colleagues and clients on effective digital boundaries and intentional technology practices
.
Assess and track digital wellness over time using research-based methodologies
.
Utilize technology as an ally to optimize wellbeing in the digital
Week 1
Flourishing in the Digital Era
Introduction to the Digital Wellness course & teachers

How to access the course materials and platforms

Assessing your own digital wellness

Access to your digital wellness E-book
Week 2
Productivity
Dive into what the Attention Economy is

Address how to manage distractions

Evaluate the problems & opportunities that come with multitasking

Discuss why technology can be addicting (The Hook Model)
Week 3
Environment
Dive into digital minimalism

Learn how to set digital boundaries at home

Practice the art of digital feng shui

Understand the impact of mindful tech design
Week 4
Communication
Evaluate digital culture within your workspace

Learn to recognize and manage Zoom Fatigue

Implement best practices when it comes to telecommunication
Week 5
Relationships
Create social capital online and offline

Understand the power of presence

Make use of online social support

Develop Media Bubbles & Friendships
Week 6
Mental Health
Evaluate the impacts of stress and how it develops

Learn about dichotomy of Gaming addiction and friendship building

Understand the impact of social media

How to create mindfulness while living in a digital world
Week 7
Physical Health
How habits form and how to break them

Importance of Ergonomics and posture

Practice Self-care strategies for physical health

Discuss the unseen world of Electromagnetic Fields
Week 8
Quantified Self
Introduction to the quantified self

How to use data for insight

Optimizing connected health
Week 9
Digital Citizenship
How to optimize your online privacy

Discuss Gen Z's perspective on the problems and opportunities of tech

Understanding Digital activism & cancel culture

How to create a safe space for Diversity & Ethics
Week 10
Flourishing in the Digital Era
Creating a mindful workshop design

How to interpret academic research

Putting all of your knowledge together!
Prefer to go at your own pace?
While our "live" synchronous Certificate Program only runs twice a year (and is application based), some students prefer an On-Demand version which is available year-round. This program enables extra flexibility but excludes weekly calls and the dedicated cohort of students.


Synchronous 10 Week
Certification Program

$1699
Our Live Certification Program is perfect for those looking for community and instructor interaction over the course of 10 weeks.


Digital Wellness Educator Certificate + Title

30 hours of video-based instruction

Live instructor-led zoom calls

Access to an interactive discussion forum

Networking with fellow students

Downloadable workbook

Access to an alumni folder of resources

5+ hours of bonus content
On-Demand 15 Week
Certification Program
$1499
Our On-Demand Certification Program is perfect for those looking to go at their own pace. You can move as quickly or slowly as you'd like over the course of 15 weeks.


Digital Wellness Educator Certificate + Title

30 hours of video-based instruction

Downloadable workbook

Access to an alumni folder of resources

Self- paced learning over 15 weeks
Private Cohort: Live or On-Demand

Contact Us for More Info
Have a group of 25 or more looking to partake in the program? Reach out to us for special bulk pricing.



Digital Wellness Educator Certificate + Title

30 hours of video-based instruction

Live instructor-led zoom calls

Access to an interactive discussion forum

Networking with fellow students

Downloadable workbook

Access to an alumni folder of resources

5+ hours of bonus content
How long is this course and what is the weekly time commitment?
The Live Certification Program runs for 10 weeks. Generally speaking, you can expect to set aside two to three hours of work per week for each program.
When are the weekly calls with the instructor and fellow students?
To accommodate global time zones, the weekly zoom calls will alternate between Wednesdays at 10am CST and 3pm CST.
How often are the courses updated?
As our digital world evolves, the program evolves with it. The certificate is continuously updated to feature the most recent digital wellness research. Our international community of teachers and alumni also allow us to constantly integrate breaking news and innovative material into our curriculum.
Where do I ask questions? Can I hire a teacher for additional consulting or coaching?
Our course features cover 20 teachers and a plethora of digital wellness topics!
Each cohort of the program has a dedicated teaching assistant to answer questions.
To respect our teacher's time and privacy, direct contact information is not shared, however you may keep in touch with them on LinkedIn and through our alumni group. Hourly consulting is available on a case by case basis depending on teacher availability.
How long will I have access to the course?
LIVE PROGRAM
Program content will be released on a week-by-week basis. You will have access to the program content for 10 weeks after your program ends. While you will no longer be able to access the program after this time, you will receive access to a robust alumni folder full of resources upon completion of your certificate.

How does community + teacher interaction differ between the two programs?
LIVE PROGRAM
The Live Certification Program provides community interaction and real time engagement over the course of 10 weeks. You'll be given the opportunity to network with fellow learners and participate in group discussions with peers and instructors alike.
ON-DEMAND PROGRAM
The On-Demand Program provides you with the freedom to self-pace the course. As a result, you'll be on a solo journey to Digital Wellness! That said, if you have specific questions about the content, you can reach out to
[email protected]
and we will try to respond within 2-3 days.
What happens if I can't complete the program on time?
While we have full faith you'll be able to complete the program within the allotted time, we have a few options to accommodate you based on the program you've chosen. If you are enrolled into our Live Program and would like to move to a later cohort, there will be a fee of $199 USD. As space is limited in each live program, learners will be permitted to move to a later cohort a maximum of two times.

If you enroll into the Live Program and feel as though the On-Demand Program would be better suited for you, we would be happy to move you to the On-Demand version. Please note that no refunds will be made to accommodate the price difference.

We are confident that you will love the program, but we do allow for a seven day grace period during the first week of the program if you decide that the course is not a right fit.
Become a Certified Digital Wellness Expert
We are so excited to have you join us on the journey to Digital Wellness. Change begins with one person at a time: join us as a pioneer in the Digital Wellness space and make a difference today.